Petrochemical characterization of Argada seam of South Karanpura Coalfield, Jharkhand, India
Alok Kumar Singh, Dr.

Rajiv Gandhi Institute of Petroleum Technology, Jais, Amethi

http://orcid.org/0000-0002-4709-3385

Mrityunjay Kumar Jha

Rajiv Gandhi Institute of Petroleum Technology, Jais, Amethi
Abstract
South Karanpura Coalfield is a part of the master Gondwana basins of India. It is semi-elliptical in shape and located in the western part of the Damodar Valley, Ramgarh district, Jharkhand. The area comprises different formations of Lower Gondwana. Pillar coal samples have been collected from the working mine face of Argada coal seam. On the basis of megascopic study, coal samples having similar characteristics were clubbed together to form a single composite sample. The petrographic analysis shows that these coals are vitrinite rich followed by inertinite and liptinite maceral group. Mineral matters are represented by carbonates, followed by argillaceous minerals and pyrite. At microlithotype level, these coals are vitrinertite rich followed by vitrite, duroclarite and inertite. Carbominerites are represented by carbankerite followed by carbargillite, while the concentration of carbopolyminerite and carbopyrite are insignificant. The vitrinite reflectance characterizes these coals as sub-bituminous 'B' to high volatile bituminous 'C' in rank. The maceral and microlithotypes concentration suggests that the coals of Argada seam have evolved under alternate oxic to anoxic moor conditions.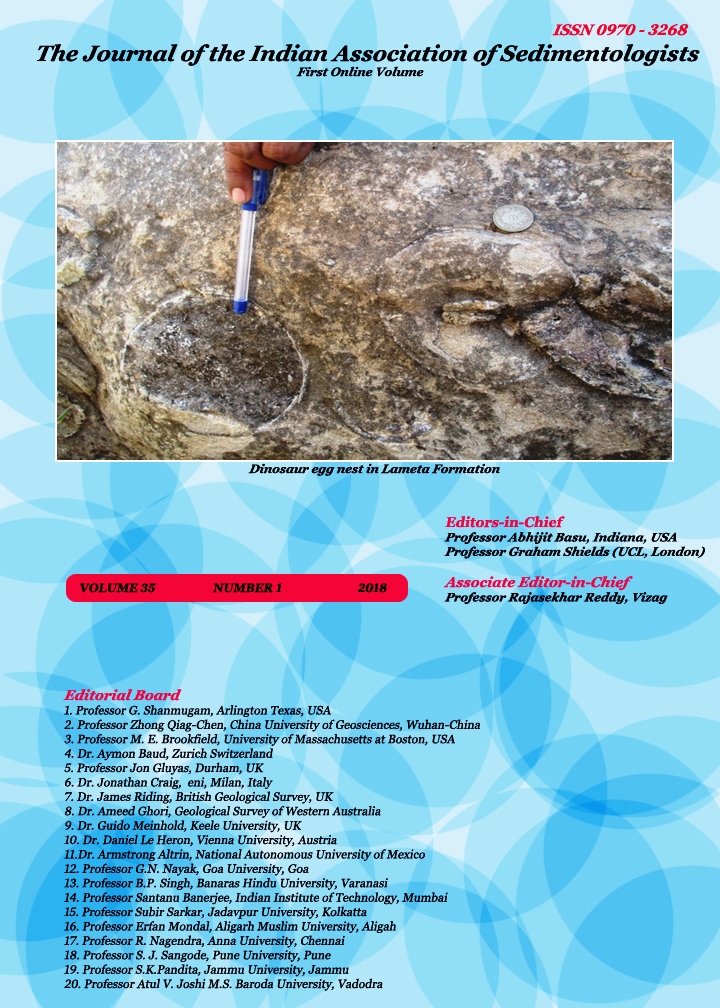 How to Cite
SINGH, Alok Kumar; JHA, Mrityunjay Kumar. Petrochemical characterization of Argada seam of South Karanpura Coalfield, Jharkhand, India.
Journal of The Indian Association of Sedimentologists
, [S.l.], v. 35, n. 1 Jan - Ju, p. 36-46, june 2018. ISSN 0970-3268. Available at: <
http://journal.indiansedimentologists.com/ojs/index.php/1/article/view/28
>. Date accessed: 22 feb. 2019.
Copyright © 2018 by Indian Association of Sedimentologists
All rights reserved. No part of this publication may be reproduced, distributed, or transmitted in any form or by any means, including photocopying, recording, or other electronic or mechanical methods, without the prior written permission of the publisher, except in the case of brief quotations embodied in critical reviews and certain other non-commercial uses permitted by copyright law. For permission requests, write to the address below.
Editor-in-Chief
JIAS